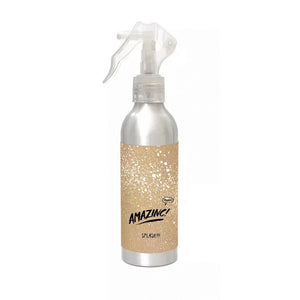 Natural, Vegan and Cruelty-free Aftersun
This Amazinc Splash Aftersun Lotion is an absolute skin treat after a day in the sun!
Refreshing and cooling, the lotion contains oat oil to immediately soothe and regenerate the skin. Packed with natural oils that provide a boost of antioxidants, such as vitamin E, to prevent cell damage caused by free radicals.
Packed in a 100% recyclable aluminium bottle with a spray pump for easy application.

Aftersun skincare
150ml Aluminium Bottle

Unique plant-based formula
Harmless to marine life
Reef safe
Plastic-free packaging
How To Use
Spray onto clean skin after sun exposure and gently massage in.  
Ingredients
Polysorbate 80, Prunus Amygdalus Dulcis (Almond) Oil, Aqua, Citric Acid, Panthenol, Sodium Benzonate, Avena Sativa Kernel (Oat) Oil, Vitamin E, Silica (Colloidal), Lavandula Angustifolia Oil, Rosmarinus Officinalis Flower (Rosemary) Oil, Jasminum Officinale Oil
The Brand
AMAZINC!
"We develop and produce simple, natural and functional skincare that is gentle to our skin as well as to the nature around us. We want to cause no unnecessary harm to the environment and inspire people to protect it.
Amazinc! started in 2015 as a vision of completely natural sunblock that is not only functional but also gentle on the skin and the environment.

Our values reflect those of a business created by a bunch of surfers and snowboarders. We love to spend time in nature – whether it is in the ocean or up in the mountains. We want to protect what we enjoy!

The goal of Amazinc! skincare is to create a range of products that are only natural - nothing more and nothing less. Products that we can produce and consume for years and years without damaging the environment and our planet."