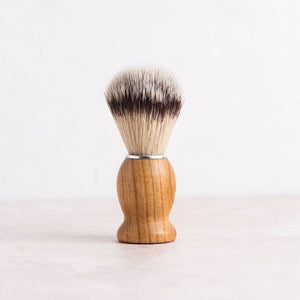 This Wild Sage & Co shaving brush is made from ash and vegan bristles.
When applied to the skin, the brush gently exfoliates and helps to cleanse and clear away dead skin cells, for the best pre-shave prep.
Pairs perfectly with our natural shaving soaps and reusable razors for the ultimate plastic-free shave.
Vegan & Cruelty-free

Plastic-free

Wooden handle
Synthetic bristles
Sustainably sourced

Why We Love Them
Did you know that most shaving brushes are made from animal hair? They're not cruelty-free and we just don't think it's necessary for animals to suffer for our shaving routine.
That's why we love this vegan shaving brush so much!
As well as being great for your skin and the environment, this gorgeous brush with its wooden handle and super soft bristles will look fab on your bathroom shelf too.
The Brand
WILD SAGE & CO
"Wild Sage and Co is a family run business nestled in the valleys of the river Wye. From our countryside cottage,  we create cold processed soaps, skin loving balms and all natural skin care. We also grow lots of the herbs that make their way into our products in our garden. Our products are based on our own home made remedies, tried and tested throughout the years on family and friends.
We believe in providing skin loving products that don't harm our skin or our environment. Reducing our waste has been core to our mission from the very start. We always aim to pare back our packaging to the bare necessities and use biodegradable and recyclable materials wherever we can. Our aim is to impact the environment as little as possible, simplify skin care and provide a good honest product that our customers can rely on.
All of our products are hand-made, natural and cruelty free. They contain no parabens, sls, artificial colours or fragrances."