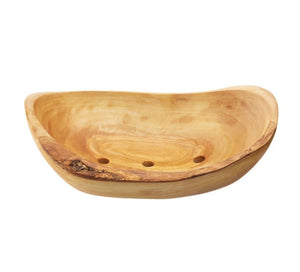 A natural olive wood soap dish. Each soap dish is unique as it is carved from a piece of olive wood. Made from a retired olive tree that no longer produces olives.

Each dish is completely unique with unique characteristics. Due to this, sizes and shapes vary slightly.

17cm x 9cm x 5cm approx. (size and shape vary slightly)
Sustainable
Biodegradable
Plastic-free
Handmade in Germany
Also available in small/oval
Why We Love Them

We have fallen in love with these beautiful, natural soap dishes and we know you will too! The natural colour and grain of the olive wood are so gorgeous. The drainage holes in the bottom of the dish allows any water to escape, keeping your soap bars dry and out of standing water. It's important for natural soap, and solid shampoo and conditioner to dry out between uses to prevent them from dissolving, making them last much longer.
This large-sized dish will easily hold 2 or 3 bars - perfect if you have soap, shampoo, and conditioner bars to store in your bathroom.

These dishes would make a lovely gift paired up with an artisan bar of natural soap.
Care Instructions

Rinse out a few times before first use to remove some of the natural oils.
Clean regularly to remove any soap residue.
Allow the dish to dry as much as possible and avoid leaving it soaking in water.

The Brand

ECOLIVING

"We are committed to doing the least harm to the environment. Our company is carbon neutral, we also plant trees through Eden Reforestation Projects for the purpose of reforestation, agroforestry and reducing extreme poverty through the employment of local villagers.

All products are manufactured responsibly and are plastic-free and vegan.

We are a member of 1% for the Planet, a global network of businesses, nonprofits and individuals working together for a healthy planet. More than $175 Million dollars given back to the environment."