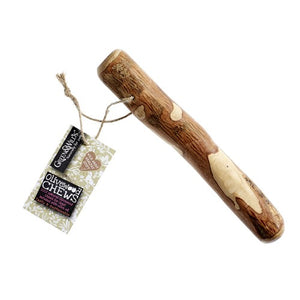 These natural Olive Wood chews are a great way for your dog to satisfy his chewing instincts! Made from annually harvested wood from sustainably managed olive trees.
Olivewood is a close-grained wood that is harder than most native woods. Simply graded, dried and sanded and then lightly infused with virgin olive oil, to give a healthy, safe, and satisfying chew for any dog.
Size large - approx. 24cm long
Safe, clean and tasty chew
Good for dental hygiene
Infused with olive oil
Durable and long-lasting
No artificial ingredients, 100% natural wood
Suitable for all dogs including puppies
Why We Love Them

All dogs have a natural need to chew, so why not give your dog an olive wood chew and divert their natural chewing instinct away from your favourite footwear!
The olive wood is harder than the standard stick that your dog may find outside - it won't break up or splinter easily giving them hours of chewing fun!

Being 100% natural you don't need to worry that your dog is ingesting anything that might be harmful to them, and there is no plastic of chemical ingredients that will be released into the environment.

The Brand

GREEN & WILD'S

"Why We're Different - We are all about natural, healthy products you can trust, with good wholesome honest ingredients. Our reputation is built on these values. We have no fillers or bulkers in our food - only nice stuff so that we don't have to pretend it's good - it really is! Today when we are trying to be healthy and think about what we eat, we think we owe it to our pets to care about them too. Our mission is to bring good healthy food, chews, treats and snacks to pets across our fairland... and beyond!"