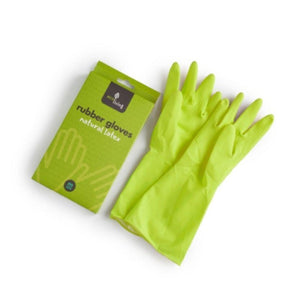 A pair of reusable natural latex gloves, perfect for household cleaning, washing dishes, and to protect your hands from household cleaning agents.
The texture pattern on the fingertips and palms allows for a better grip, and the inside has a lightly dusted natural cotton velour lining to ensure the gloves are comfortable to wear.
Reusable, biodegradable and compostable
Renewable and sustainable
Plastic-free
100% Vegan - made from plants
EcoLiving plant a tree for every set sold

Made in Europe
Available in sizes: S, M, L and XL
Natural latex can cause allergic reactions. Please avoid this product if you have a known latex allergy.
Size Guide
Size S: Length: 30 cm. Palm width approx. 95 mm

Size M: Length: 30 cm. Palm width approx. 105 mm
Size L: Length: 30 cm. Palm width approx. 115 mm
Size XL: Length: 30 cm. Palm width approx. 125 mm
Why We Love Them

These gloves are perfect for protecting the delicate skin on your hands from repeated exposure to water, dish soap and cleaning products, particularly if you already suffer from dry skin. 
We love that these gloves are 100% plastic-free and you can just cut them up and put them in your home compost when they are done.
The Brand
ECOLIVING

"We are committed to doing the least harm to the environment. Our company is carbon neutral, we also plant trees through Eden Reforestation Projects for the purpose of reforestation, agroforestry and reducing extreme poverty through the employment of local villagers.

All products are manufactured responsibly and are plastic-free and vegan.

We are a member of 1% for the Planet, a global network of businesses, nonprofits and individuals working together for a healthy planet. More than $175 Million dollars given back to the environment."