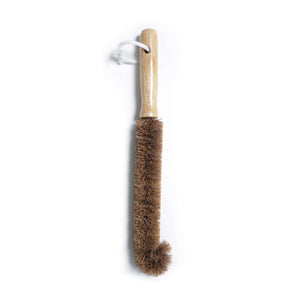 Coconut Fibre Bottle Brush
The perfect eco-friendly brush for cleaning your reusable water bottle!
The long thin design helps to get into those hard to reach areas at the bottom of bottles and glasses leaving them clean and sparkling. 

Made from waste materials that are by-products from industries such as coconut harvesting.

Length: 28cm
Width: 5cm
100% Plastic-free
Non-scratch
Great on hard surfaces
Easily removes dirt and mould
Naturally anti-bacterial
Home compostable

Sustainably sourced materials
Why We Love Them

We love this fabulous multipurpose cleaning brush!  Makes cleaning bottles and glasses so easy and it's 100% plastic-free so you don't need to worry about microplastic particles washing down the drain.
We also love that this eco-friendly brush is made from upcycled waste materials! The bristles are made from waste coconut coir, and the handle is waste rubberwood.