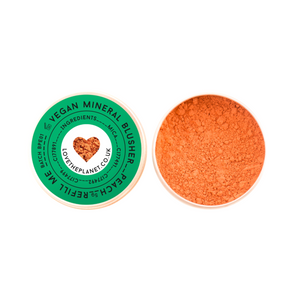 A stunning matte peach mineral blush.  Highly pigmented, it only takes a light sweep of this powder to give a beautiful flush of colour to the cheeks.  These blushes are also multi-purpose - try using as an eye shadow, or mixed with a clear lip gloss or balm to create a custom lip colour!
Also available in shade - pink.
5g Aluminium Tin

Suitable for all skin types
Vegan
Certified Cruelty-free
Ethically sourced
Plastic-free
Refillable tin
Made in the UK
How To Use

Apply a small amount with a make-up brush for an instant pop of subtle colour to your cheeks.

Why We Love Them

This blusher is so pigmented you only need a small amount to highlight your cheekbones and give your face a flush of healthy colour!  A little goes a long way with this blush and the 5g tin will last you ages!
Mineral make-up is non-comedogenic meaning it won't clog your pores, and it's also non-drying to the skin so works well with all skin types.

FAQ

Where are the Love The Planet products made?
Love the Planet was born in Scotland in 2002, and all of their products are made here in the UK.

Are the products cruelty-free?
Yes! All of the products are Cruelty Free International certified, cruelty free and vegan.

What does "plastic-free makeup" mean?
Love the Planet are passionate about the zero waste movement and wanted to create a range of beauty products that could help their customers embrace their love of make-up while reducing their plastic consumption and, in turn, their plastic waste. Therefore, their products are "plastic packaging free", which means they arrive with you in a tin or biodegradable pouch, to be decanted into an existing container.

Do the products contain MICA, and is it ethically/responsibly sourced?

Yes, they do contain mica.  The mica used in the Love The Planet products has been ethically and responsibly sourced without the use of child labour. Please see this document for more details.

Do the products contain palm oil?
No, none of the Love The Planet products contains palm oil.

How do I know which shade to buy?
You can buy sample sizes of the foundation for just £2, to allow you to test your shade before committing to a full-sized product.

I've always used liquid foundation and concealer - how do I best apply a mineral powder foundation?
Minerals are really easy to apply. The secret is to use just a tiny amount. Sprinkle a small amount onto a plate or jar lid and swirl in your foundation brush. Swirl until the powder has worked its way into the brush and you can't really see it. Then apply to your face using a buffing motion. You can then build up the coverage until you get the desired effect.

To apply concealer, use a small brush and apply a tiny amount to the required area. Work into the area lightly and then buff over with your foundation brush to thoroughly blend.

Is mineral makeup really better for your skin?
Mineral make up contains zinc oxide which is naturally antibacterial. It's therefore really great for skin that is prone to breakouts. It's also non-comedogenic so it won't clog pores. Minerals are also non-drying to the skin so they work well on all skin types and ages.

How much powder should I apply?
When it comes to the powder blushers and eyeshadows - less is more to start with! Our products are extremely pigmented, so start off with a light dusting of powder and build up. The same applies with our foundations, concealers and powder - in this case, build the powder up until you reach your desired level of coverage.

My foundation looks cakey. What have I done wrong?
If your foundation looks cakey, you're applying too much. Start off by using a tiny amount and build up until you get the coverage you're looking for.

Ingredients

Mica, Iron oxide, Titanium dioxide
Love the Planet mineral foundation is free from parabens, synthetic dyes and fragrances, fillers, bismuth oxychloride, nanoparticles and animal products. None of their products are tested on animals. Love the Planet mineral foundation is also suitable for vegetarians and vegans.

The Brand

LOVE THE PLANET

"Love The Planet is an award winning brand bringing you a beautiful collection of plastic free makeup. What started as a kitchen based project for Laura Nicholson back in 2002, quickly grew into a successful business with loyal customers all over the world.

Reaching the finals of the British Female Inventor of the Year Awards in London in 2002 with her Washable Cleansing Pads idea, spurred her on to develop the idea further and launch Love The Planet. This zero waste mineral makeup collection includes a range of beautiful makeup, free from palm oil and parabens, and NEVER tested on animals - the products are all vegan and completely cruelty free. In 2019, Love the Planet won four awards at the Green Parent Magazine Natural Beauty Awards, taking home Gold for our mineral foundation, Gold for our translucent powder, Silver for our collection of eyeshadows, and a special Plastic Free Award for our eyeshadow in "Sand".

In 2018, studies have shown worrying links between plastic pollution and climate change. In order to protect the environment and reduce the damage, cutting down on our plastic consumption and, in turn, plastic waste, is essential.

"Climate change is tied up with plastic as a threat to biodiversity — life on Earth — in a number of different ways." [David Barnes, marine ecologist with the British Antarctic Survey]

Shopping with Love The Planet is one way to start doing your bit in cutting down on plastic packaging. Orders are sent out to our customers in paper envelopes, with our products ready to be decanted into an existing container owned by the customer. Our Wholesale orders are sent in biodegradable plastic and cardboard packaging.

We believe that by taking these steps, we can begin to make a difference."