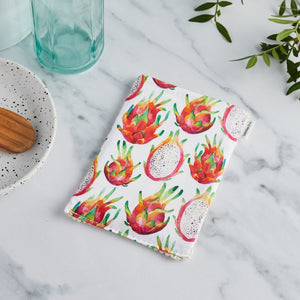 Organic Cotton Sponge
Why should the washing up be boring? Say goodbye to bland, disposable sponges with this colourful, organic cotton sponge!

With a soft, squishy side and a tough, scrubber mesh side, this sponge is great for household cleaning tasks, inside and out.

Values: Biodegradable, natural, plastic free, sustainable and vegan
Materials: Organic cotton

Size: Approx. 11cm x 15cm

Quantity: 1 sponge
Made In: The UK
Care Instructions
After use, rinse and leave somewhere well ventilated to dry, and can be laundered with normal load on cool and hung to dry.
We recommend replacing hygiene products regularly, so when your sponge reaches the end of its life in the kitchen, try it out on those outside jobs you don't want to use your kitchen cloths for. 
Why We Love Them
Why We Love Them
The plant based core which is compressed and expands inside into a squishy, scrubby sponge when wet. These sponges are really versatile and perfect for a range of washing up tasks, general household cleaning and mucky outdoor jobs. 
What's great about Tabitha Eve none sponge is that is biodegradable and compostable. So when you are finally done with it, cut it up and put it in the compost bin.
The Brand
TABITHA EVE
"Tabitha Eve believes in being kinder to the planet on which we live. Everyone can do their bit to reduce their landfill waste and replace single-use items with reusable products, so thank you for checking us out. Even by just looking at our solutions, you're making the conscious decision to be a better person - to make a difference to our planet and take a stand against the devastating effects of a throwaway culture. Debbie, our founder, started her own personal war against wastefulness and plastic pollution when travelling and diving the seas off Borneo. Confronted by a plastic island that was home to the precious sea life she had travelled so far to seek out, she vowed to try and do her bit. She created products to replace her disposable kitchenware, and soon others were asking for some to help them do their bit too... and so Tabitha Eve was born, creating plastic-free alternative products, from ethically sourced fabrics."