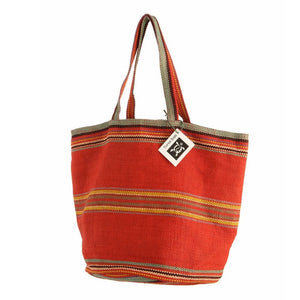 Fair Trade Handwoven Jute Bag - Red
With the staycation making its mark a decent bag is a must! Perfect for day trips, shopping or a beach outing.
These large handwoven bags are ethically made in Tangail, rural Bangladesh, by women in an inspiring empowerment programme that supports vulnerable women.
Not just a beautiful bag but also super practical, robust and spacious. Featuring an inner zipped pocket and organic cotton lining.

Handy zipped pocket to store your phone and keys

Spacious bag for all beach gear - easily fits towels and clothing

Robust - designed to last


Circular flat base so it can sit upright on the ground 

Fairtrade & Ethically Made
Plastic-free
Long handles
Also available in ochre
Dimensions
This circular flat base has a diameter of 35cm

The height of the bag is 40cm

Handles measure 66cm
Materials
Natural jute fibres with an organic cotton lining.
Why We Love Them

Need a bag for the beach? Look no further!
We already love Turtle bags - their string bags were one of the first products we stocked here at Eco Ness - and these bucket bags don't disappoint!
Durable and spacious and trendy to boot! But the icing on the cake for us is when you buy one of these bags, we are also supporting vulnerable women in Bangladesh through the Women's Empowerment Programme. Women supporting women, that's what we love!
The Brand
TURTLE BAGS

"Way back in 2002 when plastic bags were still spilling off the end of our supermarket tills, Turtle Bags was established to raise awareness of the hazards of plastic bags and sell alternatives.
Plastic in our seas is a problem that is invisible to most of us in our daily lives but will be causing problems for many decades disrupting food chains and suffocating sea life. Leatherback Turtles travel to British Waters looking for jellyfish. Sadly, they mistake our discarded plastic bags for their favourite food.
We work with our Fair Trade partners who share our environmental values to supply environmentally friendly bags. Inspired by turtles, our Turtle Bags are a practical reminder that plastic never goes away.
We are a company who like to lead the way in our work but remain true to our ethos. We have a long standing partnership with the Marine Conservation Society and donate 10% of our profits to them."