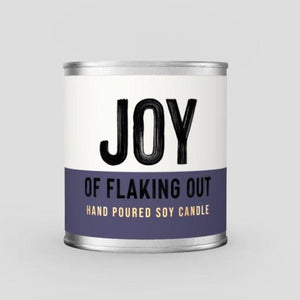 Joy of Flaking Out - This candle will never let you down.
Handmade soy wax candle poured with the delicate hands of Aaron & Jack in the west country.
For those times when you've made plans, but can't follow them through. Relax with scents of Chocolate and come up with a good excuse. We like to call it JOFO.
All of the candles by Scents of Humour are made from natural, sustainably sourced soy wax with a cotton wick for a clean, even burn. The fragrances are cruelty-free and never tested on animals.


100% Soy Wax
Chocolate Scent
Approx. 40 hours burn time
Size: D75mm x H80mm
Plastic-free product and packaging
Handmade in the UK

Why We Love Them

Who doesn't love a pun?! These candles are so fun and they are perfect for freshening up your space without any overpowering fragrances. The metal paint tin style container gives these candles a unique touch. 
We think they are the perfect gift to make someone smile!


The Brand

SCENTS OF HUMOUR

"Scents of Humour® is the brainchild of Aaron & Jack. Friends since school, we've always joked about making products together. Aaron, a product and packaging designer, has always been good at making things look great. And Jack, an aerospace engineer, has got the experience to make things work well.
Hands recently turned when Jack was let go from his day job due to the Covid-19 outbreak. Having just become a father to little baby Henry, Jack and Aaron hatched a plan to design and make candles in Aaron's Kitchen.
Jack has been busy (in between changing nappies and night feeds) experimenting with wax and fragrance formulas and Aaron has been occupied with the branding and packaging design. Not to mention we've both been hard at work writing the content for our candles to make you smile. A few writing sessions at the pub later and Scents of Humour® was born!"