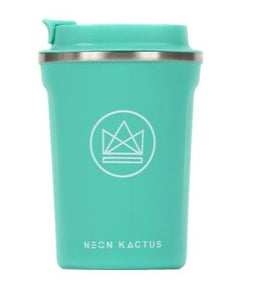 Reuseable Stainless Steel Cup - Turquiose
These fantastic insulated coffee cups by Neon Kactus are fully leakproof and made from the highest quality double-walled stainless steel.
Featuring vacuum sealed thermal insulation that keeps your drink hot for 6 hours or cold for 12 hours. 

380 ml
Soft Matte Finish
Fully Leakproof Resealable Lid
Lightweight & Durable
BPA Free
Easy To Clean (handwash)
100% Recyclable Materials
Why We Love Them

Leakproof, insulated, no metallic aftertaste, compact size, and beautiful colours.. these cups tick all the boxes!
Made from high-grade stainless steel with a BPA free lid, they are lightweight and durable.
Importantly, they fit under all coffee machines, making grabbing a coffee on the go even easier!

The Brand
NEON KACTUS
"Neil Tombs and Charlotte Gornall founded Neon Kactus in 2018. With over 20 years working in the food and drink industry and experiencing first-hand the environmental impact of single-use plastic, they knew they had to create a positive change. Combining two of their great passions; their love for the planet and great tasting coffee, they embarked on this journey. After trialling several reusable coffee cups, they realised the solution was to design and make their own, to create a cup that mirrored the coffee shop experience with no compromise on taste. They knew it would be important to create a reusable cup that encapsulated, style, design, and performance to encourage others to ditch the disposable. Their mission is simple….to Create A Better Tomorrow!"