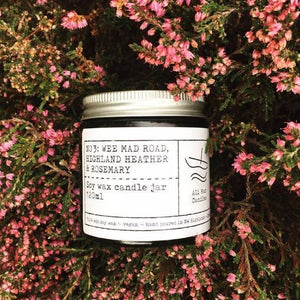 No 3: Wee Mad Road. Highland Heather and Rosemary, Luxury Candle Jar
A light lively scent like taking a drive along the Wee Mad Road. Highland Heather and Rosemary with just a hint of mint.

Rosemary oil is known to stimulate the mind, with antidepressant properties it can enhance your focus and memory and this makes Wee Mad Road a great study candle.
Light this candle and make yourself a cup of tea when you need to get things done.
Born from a love of the Highlands with scents curated to bring the vibes of the West Coast mountains and sea indoors.

120ml = 20hr burn time
100% Eco Soy Wax
Amber glass jar and aluminium lid
Natural cotton wicks
Premium fine fragrance oils & essential oils
Cruelty-free
Vegan
Plastic-free
Made in Scotland
Why We Love Them

Every single one of Ali's candles smells incredible! Each fragrance is beautiful and unique, just like the West Coast of the Highlands, the inspiration for her creations. You can feel the love and care Ali has literally poured into them.

Add a touch of coorie to your home, or give as a perfect gift to a loved one.

Soy wax is 100% non-toxic, it's biodegradable, and from a renewable plant resource. It's a slow-burning wax, meaning your candle will last 25 - 50% longer than candles made from other types of wax.

Candle Care

Some expert advice from Ali on how to care for your new candle:

Remove candle from the box before lighting, recycle box and packaging.
Straighten wick before lighting and place on a heat resistant surface.
Do NOT trim the wick before first lighting the candle. This is the only time it's not recommended to trim the wick.
When first lighting your candle jar, allow the candle to burn long enough for the wax to melt to the edge of the jar, as this prevents tunnelling.
I recommend burning your candle for no more than 3-4 hours at a time.
Always trim the wick to 1/4" before re-lighting and remove any foreign materials or trimmings. If the wick 'mushrooms' trim the top off. This controls the flame size so your candle doesn't burn too fast.
If your candle begins to smoke or the flame is too high and flickering check for drafts. Extinguish the candle, let it set and trim the wick before re-lighting.
Use a snuffer to extinguish your candle.
Keep out of reach of children and pets.
Never leave a candle unattended or near anything that can catch fire and do not move when lit.
If you enjoyed your candle, why not get it refilled to reduce waste and keep your candle jar burning and burning.
The Coigach Candle Collection
"Coigach on the North West Coast of Scotland is unique. From land shaping storms to tropical paradise sunsets. It is a joy to live in such a place.

Each Ali Mac Candle contains a piece of this life here. A life that is not for everyone, where there are challenges and difficulties. However, the uniqueness and magic of the place holds folk here. Being so close to nature and away from the rat race chaos, keeps visitors coming back, year after year. Life here is at a slower pace and particularly in winter months evokes vibes similar to Scandinavian hygge.

After a walk in the hills with your four legged friend, to then cosy up with a good book, by a wood burning stove, with a hand poured luxury candle and a wee dram...well life doesn't get much better….does it?

This connection to the West Coast and nature influences the brand. Each scent is selected not just to smell good but to provide a sort of purpose. Whether that is to relax, refresh, motivate or bring nostalgia. The scents I have chosen call attention to important pieces of Coigach, from the Highland Heather in Wee Mad Road to the Sea Salt of the crashing waves on Coigach beach's.

Ali Mac Candles is proud to be vegan and cruelty free.

My first jar collection "The Coigach Collection" is inspired by my home, friends, family, of course my sidekick Scout Dog, and every candle has its own unique story. Hand poured in my beach cottage, each soy wax candle is sealed in a reusable amber jar. The perfect packaging to take highland vibes with you on any journey."

The Brand

ALI MAC CANDLES

"My heart has always called me back to the beautiful area of Coigach – my home and where I grew up. The area and community mean a great deal to me. Since University in Edinburgh studying Marine Biology, traveling around America, spending a year in Australia and visiting many more countries around the world, the Highlands is always where I want to be.

Living in such a remote area employment is tough, and even though passionate about marine biology and the environment the riddle of moving for a job or following one's heart was a battle.

Moving back home luckily enough coincided with a good friend beginning her own dream of a sustainable fish restaurant SALT Sea Food Kitchen. For 3 years I enjoyed working with my friends, promoting sustainable fishing, and meeting people from all over the world. It's a pleasure talking to visitors about Coigach, the islands, the wildlife and the people. I now work for the Tanera Restoration Project on the Isle of Tanera Mor. I get a boat to and from work every day and I love it.

Candles have always been a passion of mine. The memories and feelings they can conjure are very special. The perfect way to relax and make any space feel like home is by lighting a candle.

Ali Mac Candles began when making eco-friendly candles recycled from oyster shells collected from working at SALT. The oyster candle love has grown and allowed development into a bespoke business, combining my passion for the Highlands, the Marine environment, Photography, Interior design, Sustainability and Recycling.

Since beginning my candle journey there hasn't been a day a candle hasn't been lit in the cottage. I create candles I use myself and adore to gift to friends and family.

West Coast Vibes

Born from a love of the Highlands with scents curated to bring the vibes of the West Coast mountains and sea indoors.

Cheers,
Ali Mac X"