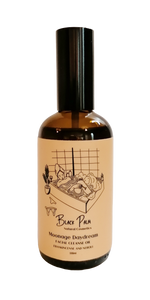 A natural facial cleansing oil made with a blend of jojoba oil and sunflower seed oil. This oil gently cleanses the face by dissolving make-up and grime and unclogging pores.  Suitable for all skin types and ideal for those with sensitive or irritated skin.
> JOJOBA OIL - light and non-greasy with a silky texture that helps the oil glide over the skin. Shown to enhance skin's restorative properties.
> SUNFLOWER SEED OIL - has the ability to help replenish, strengthen, and soothe skin. Also has a natural calming effect that can help reduce signs of skin stress or irritation.
> FRANKINCENSE - a powerful anti-inflammatory and cell-renewing properties, to leave your skin looking fresh and toned.
Suitable for all skin types
Made with botanical ingredients
100 ml bottle
Amber glass bottle
Vegan & Cruelty-free
Handmade in Scotland
The Oil Cleansing Method

You might remember from high school chemistry lessons that "like dissolves like". Oil and water do not mix - oil does not dissolve in water and vice versa.  Oil cleansing works by dissolving oil-based make-up, spf, and sebum on your skin, lifting away all the impurities and gently cleansing your skin.  To do this, you will massage the oil into your skin and then remove it with a damp hot cloth.

How To Use

Dispense a few pumps of oil into your palm.
Always apply the oil to DRY skin.
Massage into the skin on the face and neck, using circular motions for 1 -2 minutes.
Take the oil up to the hairline and down your neck too.
If you're wearing eye make-up rub the oil on to your lids and lashes too (take care not to get any in your eye!)
Hold a washcloth under running hand-hot water until it is soaked through, then wring it out.
If you have time, you can lay the warm cloth over your face and take a minute to relax and breathe in the beautiful fragrance of the oil until the cloth cools.
Wipe your face and neck gently with the damp hot cloth. Rinse and wring out the cloth under the warm water and wipe again.
Repeat this process until all traces of oil and make-up are removed.
Double Cleansing
If you are wearing spf or make-up we recommend that should double cleanse your face. The first cleanse will remove the spf/make-up and the second will give your skin a deep clean and prevent clogged pores.

You can use your oil cleanser for both cleanses or you can use an alternative cleanser for the second cleanse - but always use the oil for the first cleanse.

Follow up with a refreshing and hydrating toner and nourishing serum and/or moisturiser.

Why We Love Them

We are in love with this cleansing oil! It is so good at removing make-up, you will never need to use face wipes ever again! The oil has a silky texture and effortlessly removes all traces of make-up, including waterproof mascara.
The scent of frankincense and neroli essential oils is so dreamy! Light yet deeply relaxing, and perfect for helping you to wind down at the end of a long day. Your skin will be thoroughly cleansed without it feeling dry or tight. If you find foaming face wash tends to leave your skin feeling irritated or breaks you out in spots, then this cleanser will be a game-changer for you... trust us! It's gentle but super effective.
Pair it up with a fluffy flannel, reusable wipes or cotton rounds, and go zero waste with your skincare routine.

Ingredients

Simmondsia Chinensis Seed Oil (Jojoba), Helianthus Annuus Seed Oil (Sunflower), Polysorbate 20, Citrus Aurantium Amara Flower Oil (Neroli), Boswellia Serrata Oil (Frankincense), Vitamin E.
The Brand

BLACK PALM

"At Black Palm, we believe that your cleanse routine should not only be about looking after your skin but also your mind. Starting with taking the time to turn your daily skin cleansing routine into a peaceful ritual. We are passionate about creating beautiful products and source high quality, organic oils from within the UK. Our packaging is sourced from ethical companies and is recyclable/reusable. We believe that the responsibility of packaging should not fall burden to the consumer, and so do our best to be as mindful as possible with the matter! We got your back, Mother Earth! We are launching with our Moonage Daydream signature cleanse range. Inspired by Ziggy Stardust and the Spiders from Mars. Inhale scents of Frankincense and Neroli and imagine a psychedelic journey to the moon, letting your worries drift away into oblivion."

Worried about leaving the skin greasy but no problem there. Sometimes mascara needs extra to clear completely