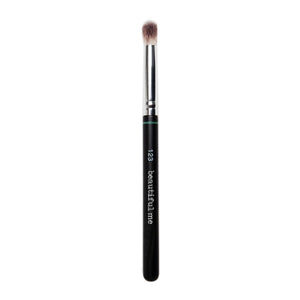 A luxurious eyeshadow brush with a wooden handle and super soft bristles. 
The bristles are made from synthetic fibres - no animal hair here! - which means these brushes are naturally vegan and cruelty-free.
Designed to last
Vegan & Cruelty-free
Ethically sourced
Plastic-free
Why We Love Them

Your vegan mineral eyeshadow applies like a dream with this gorgeous brush!
The Brand

LOVE THE PLANET

"Love The Planet is an award-winning brand bringing you a beautiful collection of plastic-free makeup. What started as a kitchen based project for Laura Nicholson back in 2002, quickly grew into a successful business with loyal customers all over the world.

Reaching the finals of the British Female Inventor of the Year Awards in London in 2002 with her Washable Cleansing Pads idea, spurred her on to develop the idea further and launch Love The Planet. This zero-waste mineral makeup collection includes a range of beautiful makeup, free from palm oil and parabens, and NEVER tested on animals - the products are all vegan and completely cruelty-free. In 2019, Love the Planet won four awards at the Green Parent Magazine Natural Beauty Awards, taking home Gold for our mineral foundation, Gold for our translucent powder, Silver for our collection of eyeshadows, and a special Plastic Free Award for our eyeshadow in "Sand".

In 2018, studies have shown worrying links between plastic pollution and climate change. In order to protect the environment and reduce the damage, cutting down on our plastic consumption and, in turn, plastic waste, is essential.

"Climate change is tied up with plastic as a threat to biodiversity — life on Earth — in a number of different ways." [David Barnes, marine ecologist with the British Antarctic Survey]

Shopping with Love The Planet is one way to start doing your bit in cutting down on plastic packaging. Orders are sent out to our customers in paper envelopes, with our products ready to be decanted into an existing container owned by the customer. Our Wholesale orders are sent in biodegradable plastic and cardboard packaging.

We believe that by taking these steps, we can begin to make a difference."