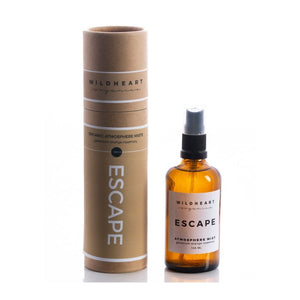 Natural Room Mist - Stress Relief
This Escape Atmosphere Mist is the perfect way to unwind and lift your mood. Restorative aromas of rose geranium and orange have been expertly balanced with rosemary in this beautiful aromatherapy mist.
The stress-relieving blend will lift your mood and fill your room with a beautiful aroma that is ideal for times when the stress levels are affecting our wellbeing.  The perfect addition to your regular self-care rituals.
Stress relief aromatherapy blend
100ml amber glass bottle
Made with organic alcohol and essential oils
Free from artificial fragrances
Vegan & Cruelty-free
Ethically made in Scotland
Packaging
Housed in a recyclable 100ml apothecary-style amber glass bottle with a plastic spray pump.  The outer packaging is a recycled cardboard tube.
A 'refill' option is coming soon for this room mist!  When you repurchase this mist you will have the option to choose the bottle with an aluminium lid so that you can reuse your plastic spray pump from your first bottle. 
The Brand
WILDHEART ORGANICS
"THE FOUNDER
A self-confessed aromatherapy lover: you can always find me in our studio working on a new composition. My passion is for blending essential oils to create effective aromas with incredible therapeutic benefits. I enjoy all the lovely customer feedback and consider myself privileged to be able to help people look after their wellbeing.
OUR ETHOS
~ We only use pharmaceutical grade essential oils. We don't use artificial fragrances, natural isolates or natural fillers.
~ Do not test on animals and would not use products tested on animals.
~ 100% of our containers, bottles & packaging can be recycled and we will always use glass containers for our body oil products.
~ We hand-make our products ourselves to ensure quality and the raw material supply chain.
~ Our candle wax is a vegetarian product made using no petrochemicals or toxic substances.
~ We use organic botanical oils in our body products and a significant proportion of organic oils used in the candles.
~ We pay more than the living wage to our team.
SUSTAINABILITY
~ We are committed to green and sustainable working practices.
~ All our products are currently packaged in glass.
~ Your order will arrive using protective packaging made from recycled cardboard and paper.
~ We only ever use plastic protective packaging in less than 2% of all orders. ((where there is no alternative)."