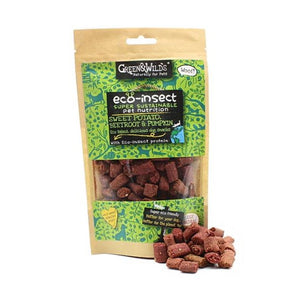 Protein Dog Treats
Love your dog while loving our planet with these super sustainable insect protein-based dog treats.

Values: Eco friendly, natural and preservative free
Materials: Natural ingredients (see below)
Size: 130g
Quantity: 1 package
Company: Based in Kingsbridge, England
Ingredients: Potato, mealworms (25%), sweet potato, beetroot, black soldier fly larvae (5%), carrot, celery, pumpkin
Analytical Information: Raw protein 22.9%; raw fat 6.8%; raw fibre 4.2%; raw ash 4.5%; calcium 0.21%; phosphor 0.33%
Why We Love Them

Why We Love Them
Eco-insect is an incredibly high quality protein, but at a fraction of the environmental impact of other protein sources.  Insect protein production uses 92% less land, 99% less water and produces 99.96% less greenhouse gasses compared to beef farming, making  these treats super eco-friendly and super sustainable.
The Brand

Green & Wild's

"Why We're Different - We are all about natural, healthy products you can trust, with good wholesome honest ingredients. Our reputation is built on these values. We have no fillers or bulkers in our food - only nice stuff so that we don't have to pretend it's good - it really is! Today when we are trying to be healthy and think about what we eat, we think we owe it to our pets to care about them too. Our mission is to bring good healthy food, chews, treats and snacks to pets across our fairland... and beyond!"