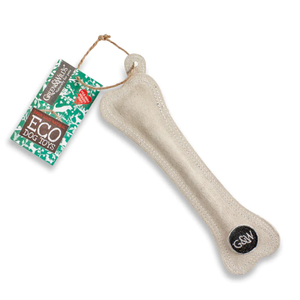 The Bone Buddy has four layers of jute twin stitched over a recycled cotton and jute rope, and then covered in a soft suede, a stylish toy for you and your dog. A great toy for throwing and tugging and dogs can have hours of fun with it.
The toy is made from sustainable jute which is a natural plant fibre. It is tough and long lasting, and is produced without using any added compound that would harm or be released when chewed. Jute is 100% biodegradable. The suede is a by-product and ensures this material is not wasted.
The Bone Buddy is 26cm (10") long, and 7cm (2.75") at its widest point
Why We Love Them

As well as being cute and fun, we love that the Green & Wild's range of eco pet toys is made from sustainable and recycled materials. They're natural and won't release any chemicals that might be harmful to your pet or the environment.

Perfect for dogs that are chewers. Save your shoes, handbags, and socks and let them chew on one of these toys instead!
Materials
The Green & Wild luxury dog toys have four layers of jute twin stitched over recycled cotton and jute rope and then covered in soft suede, handsome toys for you and your dog.
Jute is a sustainable, natural plant fibre and 100% biodegradable. The suede material used is a by-product of industry and would otherwise be wasted.

Safety Notice

This product is a play toy only and not a food product. Pets should always be supervised when playing with toys. Remove if your dog tries to swallow pieces or chunks.
No toy is indestructible.

The Brand

GREEN & WILD'S

"Why We're Different - We are all about natural, healthy products you can trust, with good wholesome honest ingredients. Our reputation is built on these values. We have no fillers or bulkers in our food - only nice stuff so that we don't have to pretend it's good - it really is! Today when we are trying to be healthy and think about what we eat, we think we owe it to our pets to care about them too. Our mission is to bring good healthy food, chews, treats and snacks to pets across our fairland... and beyond!"