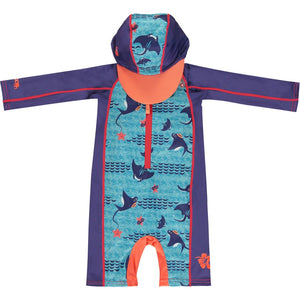 The Pop-in Beach All-in-One is great for both the seaside and the pool with a UPF of 50+ and an integrated hood to provide the ultimate protection from the sun for your wee one both in and out of the water. The new endangered print collection from Close features creatures that have become critically endangered in their natural habitats.
This all-in-one suit is size Medium, which is suitable for age 12-18 months.
Each suit is made from 6 recycled plastic bottles
Sun protection
Legionnaires style design to protect the back of the neck and ears
Stain-resistant and water repellent outer layer
Designed to co-ordinate with the Pop-in swim range
Rinse immediately after use and wash with similar colours
Why We Love Them

Your wee one will just look adorable in these brightly coloured swimsuits! Perfect for sunny days, the suit provides sun-protection as well and the integrated hood protects the back of the neck and ears. Ideal for playing and splashing in the paddling pool or swimming pool too. We also love that the suit has been made from recycled plastic bottles, diverting waste away from landfill, and instead being made into something that is useful and can be used again and again.

These suits are also very durable, meaning they will stay in good condition even when used many times. They can be passed along to someone else who can make use of the suit when your child has outgrown it, for many more days of fun and splashing!

The Brand

CLOSE PARENT

"Close Parent are proud to support the WWF through their 1% For The Planet Membership, giving back 1% of the proceeds of sales from their endangered print collection. Learn more at onepercentfortheplanet.org

Home is in happy Welwyn Garden City, where we've made it our daily mission to celebrate baby wearing, changing bums and creating simple ideas for mums & dads who share our appreciation for wonderful materials, simple parenting and good ideas. It all started back in 2004, two mums got together; one with a passion for baby wearing and the other a love of cloth bottoms. Close has since established itself as a great British parenting brand, lucky enough to win a few awards and many loyal fans both home and abroad along the way. We have always appreciated the concerns of parents regarding the world your little one will grow up in, alongside the pressures and need to manage a family budget. As a result, we believe in making things that are durable, built to last and clearly communicated, so you can make the right choices for you and your little nipper, today, tomorrow and everyday… We also try to make things which are inspired, sensitively made and impact appropriately to the environment. We not only consider the environment they are made in but also the environment they occupy throughout their lifecycle. Above everything else, we believe in Close common sense… just like you."