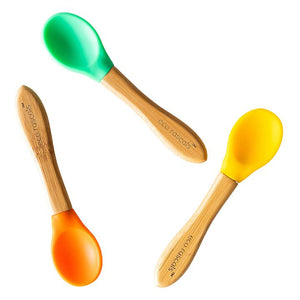 Bamboo spoons for babies and toddlers.  3 pack - yellow, orange, and green.
Ideal for children aged 4 months + 
Designed to be easy for children to handle and the silicone is soft on gums.
Made from sustainable bamboo and food-grade silicone
Plastic-free
Free from BPA, PVC, lead and phthalates
Hardwearing and longlasting
Easy to clean
The packaging is made from recycled card
Key Features
I am lightweight and ergonomically

 

designed to be a great first spoon for children to use.

My organic bamboo handle is easy to hold and my detachable silicone feeder is soft on gums

 and 

easy to clean

.

I come in vibrant colours

 which make me really fun and appealing to children.
Care Instructions
I should be washed before first use in warm soapy water and rinsed thoroughly – this is how I like to be cared for after use too.
I don't like to get too hot or too cold so please don't put me in microwaves, ovens, sterilisers, dishwasher or freezers – I might appear to be coping fine but I'll last longer if you don't.
I should be used with adult supervision at all times.
Why We Love Them

As well as the super cute designs, the Eco Rascals bamboo tableware is perfect for making children's meal times considerably less messy! The suction base on the plates and bowls means the plate can't be knocked or thrown onto the floor. All of the silicone parts are detachable for easy cleaning and the bamboo is very durable.

The Eco Rascals bamboo range would make the ideal birthday, festive, or baby shower gift.

The Brand

ECO RASCALS

"We are Kristina and Celeidh, two Mums whose mutual desire to keep the majority of the food we lovingly prepare for our children off the floor led us to design a stylish range of children's tableware products. Our products have been designed with your family in mind.

Sharing a deep passion to reduce the use of plastic, we are committed to bringing you plastic-free products that you and your children will love. Our first range of products are made of organic bamboo and food-grade silicone.

Why did we choose bamboo?

Bamboo grass matures in five years, significantly faster than any wood product. It is grown and harvested without the use of pesticides. Organic bamboo is eco-friendly, biodegradable, heat, stain, odour and water-resistant and most importantly it is non-toxic.

After an exciting launch in the UAE in October 2018, we've had our hearts set on bringing our brand home. Now the day is here – you can get our lovingly designed tableware products in your UK homes.

Our Ethos
Ethical luxury for next-generation rascals.

We are committed to innovating and producing eco-friendly children products.

We want to make the lives of parents and caregivers easier.

We are dedicated to making sustainable stylish.

We aim to build a business that positively contributes to local communities both socially and environmentally.

We want the best for our children and yours too."