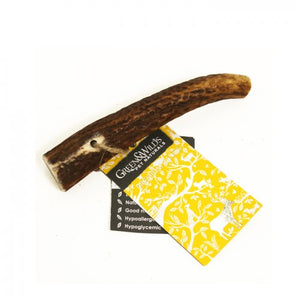 A dog chew made from naturally shed deer antlers.
These chews contain a number of good minerals and they are incredibly hard and long-lasting. Your dog will find them exciting and irresistible. This is a totally natural product, free from additives or preservatives, just pure and natural!
The Green & Wild's antler chews are sourced from Grade A and AA, Red Deer antler, naturally shed, responsibly sourced, traceable and sustainable, many from here in the Highlands of Scotland.
The antler is hand washed in water, hand-cut, and then hand sanded to smooth all the edges. Finally, every chew is checked for quality and then labelled, all at the Green & Wild's UK based facility.
Healthy, unprocessed, nutritious, long-lasting chews for dogs of all shapes and sizes, finest quality….not all antler chews are the same!
Please note that this is a natural product and the antlers will vary in size and shape from the one shown.
Size - Small: the antler weight will be 50g-75g
Only sourced from premium grade, naturally shed antler from wild roaming deer
Hand washed in water only - not treated with any chemicals
Hand drilled with eco-friendly and plastic-free twine and labels
Stringent quality control
High in natural minerals and nutrients
Low odour, no stains and lasts for ages
Sustainable & Cruelty-free
Why We Love Them

All dogs have a natural need to chew, so why not give your dog an antler chew and divert their natural chewing instinct away from your favourite footwear!

Being 100% natural you don't need to worry that your dog is ingesting anything that might be harmful to them, and there is no plastic of chemical ingredients that will be released into the environment.

The Brand

GREEN & WILD'S

"Why We're Different - We are all about natural, healthy products you can trust, with good wholesome honest ingredients. Our reputation is built on these values. We have no fillers or bulkers in our food - only nice stuff so that we don't have to pretend it's good - it really is! Today when we are trying to be healthy and think about what we eat, we think we owe it to our pets to care about them too. Our mission is to bring good healthy food, chews, treats and snacks to pets across our fairland... and beyond!"