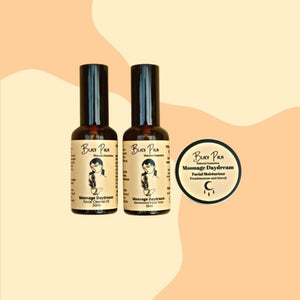 Organic Cleansing Trio
Organic ingredients, biodegradable/recyclable packaging and trial/travel size. It's a win, win, win for this luxurious little lot!

Values: Ethical, natural, sustainable and vegan
Materials: Only organic ingredients
Size: 30 ml moisturiser, 50 ml cleanse oil and 50 ml toner water
Quantity: 1 moisturiser, 1 cleanse oil and 1 toner water
Made in: Scotland
Ingredients

Moisturiser: Simmondsia Chinensis Seed (Jojoba) Oil, Persea Gratissima (Avocado) Oil, Aqua, Aloe barbadensis (Organic Aloe leaf) extract, Helianthus annus (Organic Sunflower) Oil, Butyrospermum Parkii, (Organic Shea Butter), Aurantium Amara Flower (Neroli) Oil, Boswellia Serrata (Frankincense) Oil, Stearic acid, Cetyl alcohol, Glycerin, Theobroma cacao (Organic Cocoa Butter), Glyceryl stearate, Phenoxyethanol & Ethylhexyglycerin, Coco glucosides, Tocoherol, Sodium hydroxide, Phytic acid
Cleanse Oil:  Simmondsia Chinensis Seed oil (Jojoba), Helianthus Annuus Seed Oil (Sunflower), Polysorbate 20 , Citrus Aurantium Amara Flower Oil (Neroli), Boswellia Serrata Oil (Frankincense), Vitamin E.

Toner Water: Santalum Spicata (Sandalwood Hydrosol), preservative K, polysorbate 20
Why We Love Them

Why We Love Them
Minis are a great way to try products before you fall in love with them or take them wherever you go if you already have and can't live without them!
The carefully selected balance of butters, carrier oils and essential oils in the moisturiser are designed to balance the skin and maintain the natural acid mantle. The cleansing oil clings to excess sebum, dirt, dead skin cells, make-up and washes them away with your hot cloth. The toning water tightens your pores with woody notes of Sandalwood. Every day is a spa day with this set.
The Brand

BLACK PALM
"At Black Palm, we are passionate about sustainability. We provide luxurious, non-toxic cosmetics and home care products that are beneficial to the health of our bodies, the environment we live in and the world around us.

100% VEGAN • CRUELTY-FREE • SMALL BATCH • ECO-CONSCIOUS

We source high-quality organic oils and ingredients from within the UK. Our packaging is sourced from ethical companies and is recyclable/reusable but where possible biodegradable. We stock in Glass and aluminium and where plastic is needed for our pump dispensers, we provide robust applicators, enabling years of usage. We believe that the responsibility of packaging should not fall burden to the consumer and so do our best to be as mindful as possible with the matter! We got your back Mother Earth!
Black Palm launched with our signature Moonage Daydream Cleanse Range, inspired by Ziggy Stardust and the Spiders from Mars. We believe that your daily self-care routine shouldn't only be about looking after your skin, but also your mind. Take the time to turn your daily cleansing routine into a peaceful ritual. Inhale scents of Frankincense and Neroli and imagine a psychedelic journey to the moon, letting your worries drift away into oblivion.
Look out for a #BlackPalmClub event near you! Black Palm Club plays host to sustainable events, collaborating with like-minded businesses. We encourage the public to shop small and where possible, local. To use, reuse and recycle whilst having a WHOLE LOT of fun with the process! Black Palm Club is also a platform for our customers to become a community. The Zero Waste Movement is growing and it sure is a beautiful thing!"